There has never been a better time than now to be over forty. There are more and more ageless women in their forties, fifties, and sixties around than ever before.
These ageless women are modern, glamorous and successful.
These ageless women are a group refusing to be defined by the year that they were born in. More and more they are breaking the boundaries of every single sphere from politics to business and even better they are growing in their influence.
There are many dynamic midlife women from all walks of life that are taking over huge jobs and moving into positions of power. They are making their voices heard in ways that count, and their numbers are growing.
No longer do middle-aged women feel invisible, and marketers are beginning to realize this and more and more they are catering to the real and more mature woman.
Ageless women of today value themselves and know exactly what they want. They are tired of apologizing for their ages and instead they are changing life around to suit themselves.
They are making use of the many opportunities available today to fulfill their potential.
Ageless Women
We all tend to think of Hollywood stars here, like Meryl Streep, Laura Linney, Rachel Weisz, Judi Dench, Helen Mirren and Gwyneth Paltrow just to name a few.
There are many big names that are famous and they are still confident and well respected with thriving careers.
Some lesser known ones include:
Val Thomas (75)  – Just launched her own app.
Debbie Mcgee (59) – Getting more TV roles now than ever before.
Deidre Larkin (86) – A record-breaking runner who only started to run in her 70's.
Vera Wang – Became a world-famous clothing designer after only starting this career in her forties.
Kathryn Bigelow – At 57 became a world famous film director.
More Ways In Which Ageless Women Are Coming To The Fore
46% of mature women are travelling and discovering new countries, especially after retirement.
Most ageless women have smartphones which they use for chatting, banking, social media and news.
Increasing numbers of ageless women are moving to buzzing city areas when they retire rather than quiet neighbourhoods.
Lifestyles are more spontaneous, and freedom is the choice when women no longer have responsibilities like raising children.
Women prefer to spend their money on life experiences than clothing.
Ageless women are better friends with their daughters now than ever before.
The average age now for amateur triathletes is 42.
Women now embrace a more ageless approach to fashion like borrowing both their daughters and their mother's clothing.
Eating for health is becoming more important and thus women are living longer.
Women are taking a more holistic approach to their health and beauty and spending more tweakments '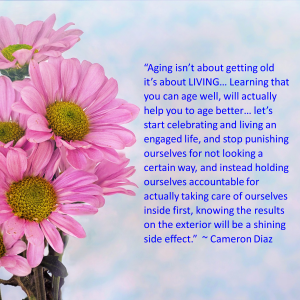 So all you 40 plus women out there. Start opening your mind to new experiences and say yes to any of life's adventures that may be thrown your way. Agelessness is all about your attitude to life and not the number in your ID Book.
This is your moment, right now!