No matter what your age, there are a few timeless style secrets for women to ensure you always look stylish and well presented. Believe it or not, it is not at all about following the latest fashion advice.
Style Secrets For Women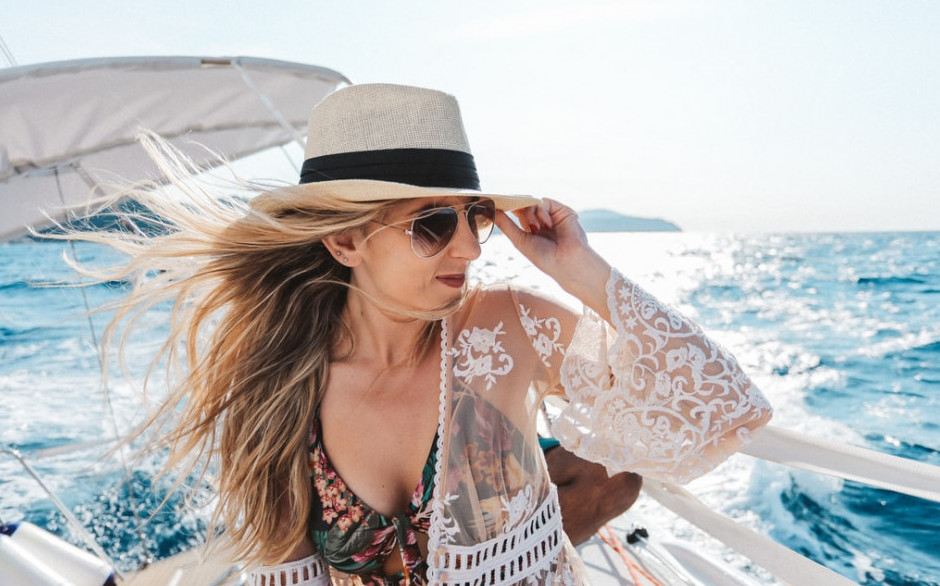 No matter what your age, every woman desires that 'je ne sais quoi' that certain people seem to exude. It is the indefinable quality that feels effortless and timeless.
Here are some simple style secrets for women to help you too to achieve that irresistible personal and timeless style.
Stay Away From Trends
Trends are not always designed to suit all body types. So if the latest trend doesn't flatter you, don't try to force your look to work with them.
Doing this will allow you to develop your own signature style that will stand the test of time, regardless of what is currently in fashion.
Avoid A Sloppy Silhouette
Although oversized cardigans and baggy jeans are the current trend, tailored pieces are the number one way to achieve polish, which timeless women always have.
Clean And Neat Accessories
Shoddy shoes and a frayed handbag could ruin even the highest of haute couture outfits.
Always ensure your accessories are clean and well-polished. Invest in a few high-quality and classic items that go with all outfits.
You Can Never Have Too Much Of A Good Thing
If you find that item of clothing that seems to have been tailored specifically for you or you come across that perfect jacket or pair of shoes, make sure to buy the item in multiple pieces or in every possible color.
You will never have to worry about the day when you have to throw the overworn item away and you won't be able to get another.
Follow The Rule Of Thirds
Familiarise yourself with the 'third piece rule.'
The third piece is a belt, scarf, hat, or coat which you would wear over your ensemble. The third piece adds a chic touch without overpowering your look.
Have A 'Go-To' Outfit Formula
This style secret for women ensures that you never have to worry that you have nothing to wear.
Ensure you always have classic items that fill you with confidence in your wardrobe, ready to be up styled for evening affairs or softens for casual daytime events with the right accessories.
Choose Flats Over Heels
Although tradition dictates that women wear heels to a formal event, if those heels are going to leave you struggling through the evening, the right pair of flats can finish off an outfit just as well as a pair of heels.
Choose flats that are chic and clean and that match your ensemble.
Invest In A Colour Analysis
Colour analysis is a method of determining which colors of clothing and make-up shades harmonize with a person's skin complexion, eye color, and hair color.
Wearing the wrong colors can leave you looking drained or washed out.
However, knowing which color family you belong to can help you to figure out exactly which hues will flatter you.
Wearing one of your colors close to your face will light you up and make your hair and eyes pop.
See if you can work out which one you are.
Spring Type:
Skin: clear, warm undertone. Cheeks turn a peachy color when you blush. You have light skin for your ethnicity.
Hair: Light blond to medium brown or strawberry blonde. Golden or red undertones.
Eyes: Clear blue, turquoise, green, hazel, or light brown.
Summer Type:
Skin: cool undertone. Low contrast between hair and skin. Cheeks turn a cool rosy color when you blush.
Hair: Light blonde to medium brown. Cool ashy undertones.
Eyes: Clear blue, turquoise, cool green, grey-brown, or slate.
Autumn Type:
Skin: Warm golden undertone. Rich overall coloring. Low contrast between skin, hair, and eyes.
Hair: Mid-brown to black, or medium to deep red. Golden or red undertones.
Eyes; Hazel, medium to black-brown, olive, or warm green.
Winter Type:
Skin: Cool or olive undertones. High contrast between skin, hair, and eyes or a deep overall coloring.
Hair:  Ashy mid brown or dark brown to black. Cool undertones.
Eyes: Mid brown to black-brown, grey-blue, clear blue, or cool green.
You can read more about learning what color type you are and which colors will suit you best by clicking here.
Have you tried facial exercise to keep your face looking younger?
If you have any other timeless style secrets for women to add, please leave a comment below.