Finding the next step in life to take, especially if you have retired and are looking for something to fill your time with can be daunting. Just remember that it is when you are willing to listen to yourself and be fearless, that figuring out your next step becomes easier.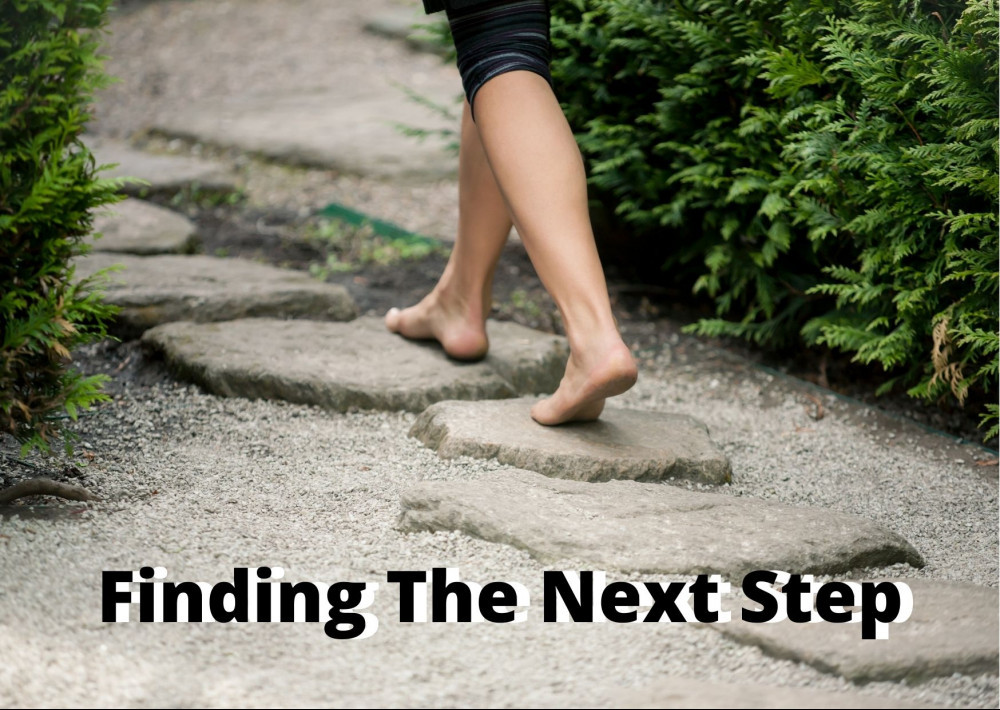 All our lives are made up of a complex network of pathways that we can use to move from one phase of life to the next. For some of us, our paths are wide, smooth, and clearly marked. However, many people find that they have a difficult time figuring out where they need to go next. Determining which "next step" will land you on the most direct route to fulfillment and the realization of your life purpose may not seem so easy.
How To Find The Next Step
There are many ways to discover what the next step on your life path should be.
Often, your inner voice will counsel you that it's time for a change, and it is very important to trust yourself because only you know what is best for you. Personal growth always results when you let yourself expand beyond the farthest borders of what your life has been so far.
When figuring out the next step in life, you may want to review your life experiences. The choices you've made and the dreams you've held onto can give you an idea of what you don't want to do anymore and what you might like to do next. It is also a good idea to think about creative ways you can use your skills and satisfy your passions.
Visualizing your perfect future and making a list of ways to manifest that future can help you choose a logical next step that's in harmony with your desires.
Meditation, journal writing, taking a class, and other creative activities may inspire you and provide insight regarding the next step in life that will bring you the most satisfaction.
So if you have ever come across a fork in the road and been unable to decide which road to take here are some tips to help you work through it:
Figure Yourself Out
Part of finding the next step in life is figuring out yourself. It's all about reflecting and taking time to see where the impulse is coming from. Get to know yourself, your likes and dislikes and where you would love to be in life's journey.
Make A Mission Statement For Yourself
Having a personal mission statement will provide you with clear boundaries for all of your goals, plans and priorities. Every goal you develop should support your mission statement. If they do not, either revise your statement or adjust your goals in order to stay on track.
Your mission statement should:
specifically define your interest and values in life.
be clear about what your purpose in life is.
aim to create a life that is centered around your values and interests.
be used to help you to make decisions.
Create A List
Make a list of all the things you want to do and experience in your life. Ask yourself if there is anything you will regret if you don't do them. Compare the items on your list to your mission statement and ensure that the items on your list correspond with your statement.
Find Something You Are Passionate About
Make a list of the things you love to do, because if you find something that you are passionate about, you are more likely to stick to it and make it work for you. Is there something you have always wanted to try, but never had the opportunity. This may be the time you can finally do it.
Determine Your Ideal Life
Write down and define exactly what an ideal day, week, month and year looks like for you.
Doing this is a great starting point to develop some goals that will ultimately lead to a life full of happiness and joy.
It is when you are willing to listen to yourself and be fearless that figuring out your next step becomes easier.
Beneath the fear, hesitation and uncertainty lies your inner knowing that always knows which step you need to take next.
If you can allow the taking of your next step to be as easy as putting one foot in front of the next, you'll notice that your next step is always the one that is right in front of you. All you have to do is put one foot forward and on the ground.
Baby Steps!